We represent a niche organization that has a proven track record for solving customer problems, on-time delivery & delivering consistently the best parts in the industry.  Our executive team has over 125 years of powder metal experience that we can share with our customers.  Our core competency is producing multi-level structural components to gears and locking components.  Our perfect part is something that has 2 levels of complexities and volumes that range from 25,000 – 500,000 pcs.
MANUFACTURING CAPABILITIES
We specialize in tight tolerance sintered metal component parts.  Our diverse molding equipment allows for flexibility and repeatability throughout the plant.  Our max tonnage is 400 tons.
MATERIALS
90-10 Brass
80-20 Brass
70-30 Brass
90-10 Bronze
Carbon Steels
Copper Steels
Soft Magnetic Irons
Stainless Steel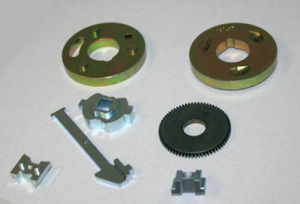 MARKETS SERVED