1
Are there cost savings by converting a screw machine part into a cold formed part?
YES – Potentially significant cost savings due to utilization of wire verses bar stock in a smaller diameter wire.
Can I save money by converting a punch press part into a multi-slide part?
YES – Typically 15-20% savings, due to the elimination of the carrier strip. Tooling is typically less expensive for a multi-slide press as opposed to a punch press.
What is the most common type of alloy Aluminum Extruders push?
Alloy 6063.  6063 typically has good mechanical properties and is heat treatable and weldable.   6063 is mostly used in extruded shapes for architecture, particularly window frames, door frames, and roofs. It is typically produced with very smooth surfaces fit for anodizing.
What happens to my cash flow if I take my annual inventory turns from 1 to 4?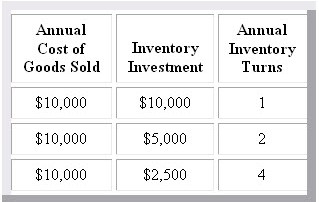 You free up $7,500 dollars in free cash flow by increasing your inventory turns to 4.  This "free" cash can be used to hire another employee, stock different product, re-invest back in the business, etc.
What are the 4 categories that define the "Cost of Quality"?
Prevention – costs associated with preventing quality nonconformance such as product defects, service errors, etc. Example: quality inspections, process analysis, data collection, reporting.
Appraisal – costs associated with determining compliance within specified quality requirements. Example: testing and associated activities.
Internal Failure – costs associated with identifying quality nonconformance in house (before product delivery to customers). Example: Defect management, rework, retesting.
External Failure – costs associated with dealing with quality nonconformance detected by the customer (after product delivery to customers). Example: customer service, technical support, returns, warranties.
What value does a Manufacturer's Representative (Gorham Inc.) bring to my company?
Over 60 years of expertise in the marketplace
Diversity of manufacturers & capabilities
Knowledge of manufacturing processes
Design engineering assistance
Local presence
Support vehicle
What is your geographic territory?
Wisconsin and Northern Illinois.
Do you work with companies outside of your geographic region?
It depends.  With some of our principles we have an exclusive territory and do not travel outside of Wisconsin and Illinois.  Where it makes sense we will travel to our customers location.  Previous major locations serviced include:
Indianapolis, Indiana
Fort Wayne, Indiana
Minneapolis, Minnesota
Peoria, Illinois
Quad Cities, Iowa
Dubuque, Iowa
Pittsburgh, Pennsylvania
Detroit, Michigan
Stillwater, Oklahoma
In what cities does the majority of your work come from?
Illinois:  Chicago, Des Plaines, Mount Prospect, Elk Grove, Aurora, Elgin, Franklin Park, Lincolnshire, Crystal Lake, Decatur, Melrose Park, Collinsville, Cicero, Gurnee, Danville, Downers Grove, Moline, Elmhurst, Freeport, Glendale Heights, Glenview, Hinsdale, Itasca, Joliet, Lake Zurich, Bloomington, Chicago, Peoria, Rockford, LaSalle, Rock Island, Kankakee, Dekalb, Dixon
Wisconsin:  Racine, Milwaukee, Kenosha, Brookfield, Fox Valley, Menomonee Falls, Grafton, Wausau, Madison, Waukesha, Kohler, Sheboygan, West Allis,  Cudahy, Oak Creek, Wauwatosa, Mukwonago, Muskego, Franklin, Beloit, Janesville, Green Bay, Appleton, Oshkosh, Fond du Lac
What cities has Gorham Incorporated called on before?
Illinois:  Chicago, Des Plaines, Mount Prospect, Elk Grove, Aurora, Elgin, Franklin Park, Lincolnshire, Crystal Lake, Decatur, Melrose Park, Collinsville, Cicero, Gurnee, Danville, Downers Grove, Moline, Elmhurst, Freeport, Glendale Heights, Glenview, Hinsdale, Itasca, Joliet, Lake Zurich, Bloomington, Chicago, Peoria, Rockford, LaSalle, Rock Island, Kankakee, Dekalb, Dixon
Wisconsin:  Racine, Milwaukee, Kenosha, Brookfield, Fox Valley, Menomonee Falls, Grafton, Wausau, Madison, Waukesha, Kohler, Sheboygan, West Allis,  Cudahy, Oak Creek, Wauwatosa, Mukwonago, Muskego, Franklin, Beloit, Janesville, Green Bay, Appleton, Oshkosh, Fond du Lac