Location: Elyria, OH
Employees: 80
Ohio Screw Products was founded in 1945 as a screw machine job shop and has evolved into a world-class screw machine company.  We feature multiple-spindle Acme Gridley's, Euroturn's, Davenport's, Brown & Sharpes & Emco CNC'S.   Our diverse equipment eliminates your need to shop because we are very efficient & competitive from low to high volume demands.  Ohio Screw has a proven track record of exceeding customer expectations in some of the most complicated machined components.  We look forward to saving you money with your screw machine parts.
1
MANUFACTURING CAPABILITIES
Automated Screw Machining
CNC Machining
Secondary Services (in-house)
1
EQUIPMENT
Acme Gridley & Eurtoturn screw machines

(10K to 1M pieces or more)
Capacity range from 5/8" to 2" diameters
Emco Maier 420 MC CNC dual spindle & sub spindle lathe with live tooling and "C" axis equipped, 3.9" capacity chucking maching
Emco Maier 425 CNC dual spindle & sub spindle lathe with live tooling and "C" axis equipped, 3.9" capacity chucking maching
Miyano BNC 34 2-axis Lathe, 1 1/4 " Bar Cap, 4" Chucker Cap
Miyano DNC 34T 3-axis Lathe, 1 ¼" Bar Cap, 4" Chucker Cap

Brown & Sharpe screw machines with PLC controls

(1K to 30K pieces)
Capacity up to 1 5/8" diameter

Oversize Davenport screw machines

(10K to 1M pieces or more)
Ideal for small diameter parts with tolerances of +- .001"
1
QUALITY CONTROL
OSP's quality management system is certified to ISO 9001:2000. Our quality management system complies with all of the standard's strict demands including document retention and internal auditing of documented procedures. We also subscribe to the principles of Six Sigma.
OSP uses the Production Part Approval Process (PPAP) to ensure that the parts shipped to our customers have been machined according to the customer's specifications and satisfaction. PPAP assures our customers that OSP is complying with their part design requirements and tolerances and requires accountability using the following:

Control Plans
FMEA
Process Flow Charts
Submission Warrants
Measurement System Analysis

Gauge Control

Gauges are calibrated and their locations are tracked.

Quality Guarantee

OSP understands that mechanical processes are never perfect 100 percent of the time. Machines, tools, and people occasionally fall short of perfection. OSP is committed to maintaining a quality procedure that guarantee our customers will receive their parts according to their specifications.
1
ENGINEERING SUPPORT
Ohio Screw Products delivers value-added consulting and machining engineering services for our customers. Our commitment to producing the highest quality precision turned parts begins with understanding our customer's operations and their manufacturing processes regarding their final component assembly.
1
COMMON MATERIALS
Aluminum
Brass
Bronze
Carbon & Alloy Steel
Copper
Plastics
Stainless Steel
Various Tubing
1
MANUFACTURING CAPABILITIES
Agricultural
Construction
Customized Product
Dies, Tools, Jigs
Electrical Components
Fluid Power Engineering
Hydraulic Applications
Industrial
Mechanical Power
Medical
Military
Screw Machine Product
Small Engine Manufacturers
Tool & Die
1
ZERO LEAK TECHNOLOGY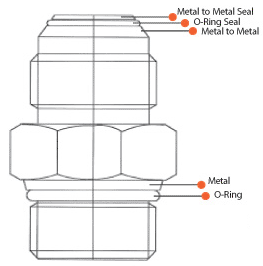 Zero-Leak Port Entry Plugs and Fittings offer significant advantages over old style o-rings on SAE straight thread or pipe thread plugs. They are guaranteed not to leak or back out, even in vibrations, temperature change and pressure spike situations. They require no chemical sealants, eliminating the risk of fluid system contamination.
Zero-Leak Plug technology involves the use of the taper at the mouth of standard SAE, ISO 6149 and other similar ports, to form a metal-to-metal seal with a specifically designed feature of the male mate component.
This feature is comprised of a tapered metal seat which protrudes when assembled, into the first few thousandths of an inch of the female taper of the port. When torque is applied to the assembled fittings, an interface of exceptionally high integrity is formed metal-to-metal.
As a back up to the primary metal-to-metal seal, an elastomeric seal in the form of an O-ring is also provided creating the most reliable and cost effective Zero Leak Port Entry Plug in existence.
Benefits of Zero Leak Boss Port Plugs
Boss port plugs provide backup seals for no weep, and no leak connections for all applications
Each seal works independently
Interchangeable with standard plugs
Will seal without O-rings
Exceptionally high unit loading at the interface
Invokes elastic memory between mating parts for extended life in vibration
Wide assembly torque range
Fittings will repeatedly seal
Increase choice of materials for service as high torques are not required
Exceptionally effective in vibration, temperature variation or pressure spike situations
Contributes to significant system cost reduction
Problems with Standard Plugs
No back up seal
High assembly torque required, leading to stripped threads
Poor resistance to vibration
Poor performance in aluminum ports
Fittings may work loose in service, eroding the O-ring resulting in leaks
Poor performance where high pressures, temperature changes, or shock loads are present
Surface defects or inaccurate machining of parts may result in leaks
Ohio Screw Products Sample Parts Gallery
[nggallery id=10]
1
Gorham Inc. works with small, medium & large manufacturing & distribution companies that primarily reside Wisconsin & Illinois. The major metro markets that we visit daily are located in Milwaukee, Madison, Wausau, Sheboygan, Waukesha, Oshkosh, Kenosha, Racine, Chicago, Rockford, Aurora, Moline, Joliet, Elk Grove Village, Addison & Peoria. The primary manufacturing processes that we represent are: Aluminum extrusions, castings, injection molding, metal stampings, powdered metal, precision machining and specialty cold heading. The hardware products we represent are bearings, knobs and seals. Please visit our Request for Quote page for a no obligation quote.